News
Christmas Prelude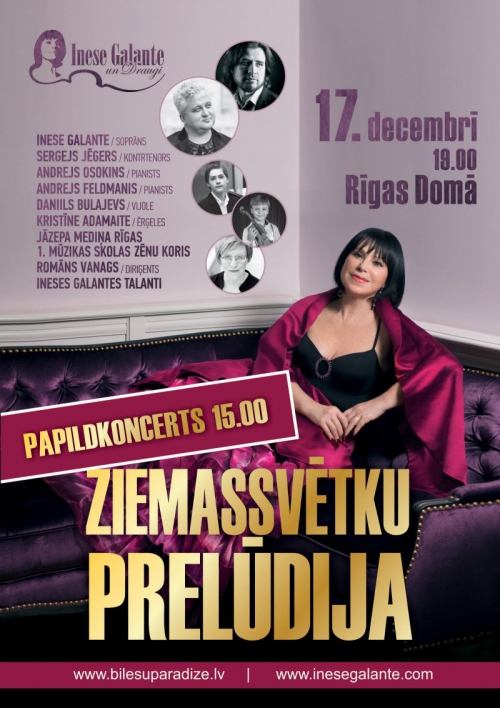 Christmas Eve is that magic time when you want to share joy and beauty with friends. Following the tradition, Inese Galante Foundation is preparing for listeners a special musical gift – a brilliant soprano IneseGalante's inspired Christmas Prelude concert program with the participation of the well-known Latvian and foreign musicians, which will be performed on 17 December at 15:00 and 19:00 at the Riga Dome Cathedral.
In the concert, you will hear audience's beloved Latvian artists – Inese Galante and her long-term stage partners and friends, as well as young but well known in Latvia and abroad stars : countertenor Sergejs Jēgers – one of the brightest Baroque music interpreters in Latvia, organ player Kristine Adamaite, whose concert geography include performances in Australia, USA and Canada, pianist Andrej Osokin - laureate of the world's most prominent piano competitions - including the Leeds, Rubinstein, Long-Thibaud, Queen Elisabeth, as well as International German Piano Prize, one of the most sought-after Latvian pianists.
And, of course, according to one of the Inessa Galante Foundation's main principles – to offer support for talented young artists, some of them will appear on the stage together with well-known musicians: you will hear the winners of Inese Galante's Talents competition, as well as piano player Andrejs Feldmanis (junior), who take part in every December concerts at the Dome cathedral organized by Inessa Galante Foundation. The magic Christmas atmosphere will be accomplished with the boys' choir of Jāzeps Mediņš 1st Music School of Riga, conducted by Romāns Vanags.
In this marvelous evening, let us leave daily routine behind the door and open our hearts to the peace and charming sounds of the music.
---
Post date: 26.09.2016. 00:42