News
Christmas concerts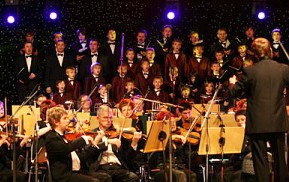 This year the Jazeps Medins music school boys' choir has stage beautiful Christmas program. Listeners will hear wide range of Christmas music.
There are together 14 concerts scheduled this year together with Collegium Musicum Riga, Latvian Symphony Orchestra and many popular Latvian artists and also talented soloists from the choir.
Concerts in Latvian National Theatre:
December 16., 19., 20., 21., 23., 26., 27., 28., 29., 30. - 7:00PM
December 18 - 6:00PM.
January 2., 3. - 7:00PM
Concerts in Kipsala Hall:
December 25 - concert at evening.
December 26 - concert at day.
Christmas is coming fondling us with a warm white hand. It brings to us a marvellous range of feelings to share with all who is dear to us. Leaving haste and all razzle-dazzle behind, this time comes long awaited, the time when peace and generosity fills every heart.
We wish you bright and peaceful weeks of Advent and invite you to "Christmas concert in Kipsala" on the first Christmas Day, 25 December at 17:30. The concerts will feature such Latvian music stars as Inga Kalna, Sergejs Jegers, Intars Busulis, Ance Krauze, the Boys Choir of Jaz.Medins Music School conducted by Romans Vanags and the National Symphony Orchestra conducted by Gints Glinka.
Christmas music to be performed in Kipsala brings the light and love. Christmas music warms the cockles of every heart, brings hope, peace, and heartens the weary. Many composers have been writing music for Christmas and this tradition is still alive.
The first part of concert will offer the best compositions of classical music. The concert will start with a sacred music - fragments of A.Vivaldi's magnificent "Gloria". Further will come a parade of brilliant soloists - Inga Kalna will sing "Ave Maria" by Pietro Mascagni, "La Luna" by A.Dvorzak and "O Holy Night!" by A.C.Adam; Sergejs Jegers with Kachini's "Ave Maria" and Handel's aria; young trebles from the Jaz.Medins Music School - Emils Kraucis and Eduards Eizenbergs; young violinists of E.Darzins Music Secondary School - Ulanta Gaile and Jevgenijs Cepoveckis. A very special accent will be Schubert's "Ave Maria" performed by Intars Busulis. It will be singer's debut in classical repertoire. The first part of the concert will end with an extremely beautiful G.F.Handel's "Hallelujah" Chorus.
Romans Vanags, an artistic director and a very popular chief conductor of the Latvian Song Festivals will conduct the Boys Choir of J. Medins Music School. Gints Glinka, a chief conductor of NSO as of 2006, will conduct the National Symphony Orchestra.
The second part of concert will offer contemporary and popular Christmas melodies enchanting with magnificent and joyful play of rhythm and sound. The National Symphony Orchestra will perform a popular Christmas melodies in an American symphojazz style. The Boys Choir of Jaz.Medins Music School together with Ance Krauze, Sergejs Jegers and Intars Busulis will sing such a well-known Christmas carols and songs as "Jingle Bells", "Rudolf, The Red Nosed Reindeer" and "White Christmas". Moreover, Intars Busulis, vocal + trombone, accompanied with the Boys Choir on their turn will perform traditional Christmas chorals like "Lo, How a Rose E'er Blooming ", "O Thou Joyful Day" and other.
And finally - "Silent Night" - will sound loud in a chorus of all artists to bring the light of Christmas to every heart in the audience where it will glow until the first breath of spring.
The Kipsala hall will be arranged specially for this concert - the stage located in the centre of the hall and theatre seating around it, as well as screens will reasonably improve visibility. To create cosy and festive atmosphere special attention will be paid to decorations and lights.
The organiser of "Christmas concert in Kipsala" is the International Exhibition Company BT1.
"Christmas concert in Kipsala" will be a wonderful Christmas Day event and a good present for people you do love - your family, friends and colleagues.
Tickets are available at the International Exhibition Centre and the outlets of "Ticket Service" throughout Latvia.
Ticket price in advance sale ranges from LVL 2.50 to LVL 15.
Group applications are accepted too.
For information or to book tickets, please, call: +371 7067500 or +371 7067502
Kipsala Hall Website: http://www.bt1.lv/ziemassvetki/
---
Post date: 28.11.2005. 00:00