2011 - Es bij' puika / What A Boy I Was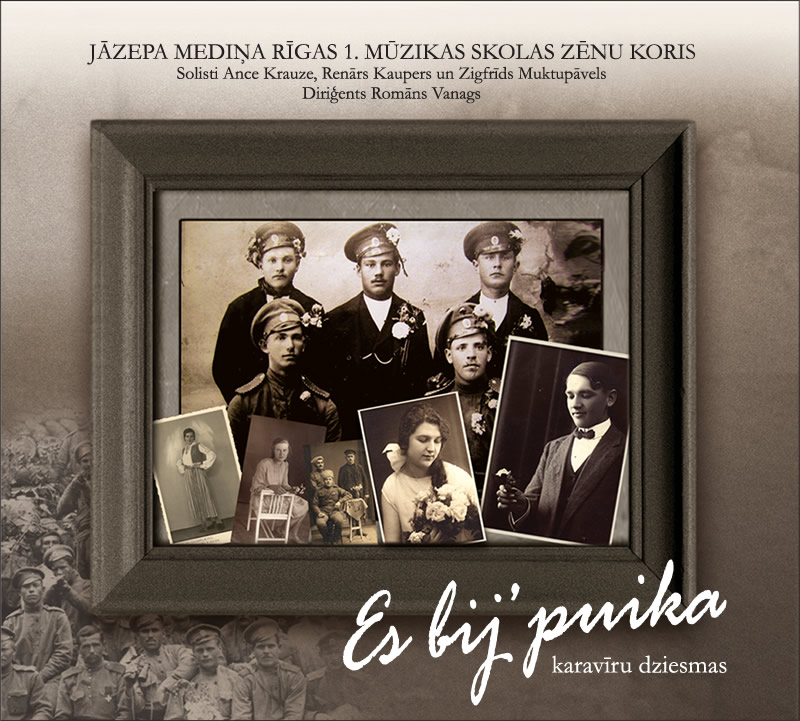 Artist: Jazeps Medins music school boys' choir, Ance Krauze, Renārs Kaupers & Zigfrīds Muktupāvels
Format: CD
© 2011 Edgars Linde (arr.)
(P) 2011 producentu grupa Rain Project
01. Jauna diena
02. Es bij' puika
03. Vārna kliedza
04. Šie kauli
05. Sarkandaiļa roze auga
06. Aiz tiem kalnu kalniem
07. Bandiniekam rudzi auga
08. Div' dūjiņas
09. Kad ar uzvaru
10. Es karā aiziedams
11. Šūpojies, šūpulīt
12. Mirdzot šķēpiem
13. Jauna diena - fināls
"Be wise my son", my mother told me, wen I run to her dressed in a white linen shirt which she had made. I went to say goodbye, to hug her. Be wise - nothing else, no tears, not even a sigh... wasn't this courage characteristic to all mothers, whose sons were leaving to fight for Freedom? (Mariss Vētra "Div' jūjiņas"; "Two Doves").
The idea of soldiers' songs program was born in October 2007 on the way to South Africa, where Jāzeps Mediņš Music School Boys' Choir was having their third tour already. The audience, at the very South of the Earth, was impressed, when they heard the song about two little doves running high in the air and two brother heading off to the battlefield. (Div' dūjiņas). A song "Es karā aiziedams" ("To war I went") also brought people to quiet tears, even if they didn't understand a word of the boys' singing. Then it was clear - once back home, we will make a full program and then, record an album.
The album starts and ends with the song "Jauna diena" ("A New Day"), what Romāns Vanags once heard in record by the USA Latvian quartet "EJAM". The song is like a frame, which holds melodies, known as folk songs, songs by unknown authors, including soldier and legionary songs. Romāns Vanags says: "With boys we had serious conversation about the Latvian Legion, about Latvian rifles; we discussed what war means for Latvians. "Singing, dancing, we'll head off to the battlefield" - this song really sounds like a game, yet for many it turns out to be the final one. During these conversations I felt that the boys square their shoulders and start feeling proud about what they're doing. They have this inner pride of their native country."