2011 - Velniņi / Little Devils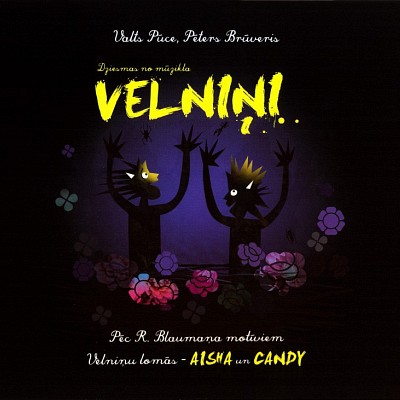 Artist: Jazeps Medins music school boys' choir, Aija Andrejeva, Liene Greifāne
Format: CD
© 2011 Valts Pūce
01. Elle
02. Elles vārti vaļā veras
03. Šajā raibā pasaulē 1
04. Saimnieks un saimniece 1
05. Nāc, nāc vērsīt
06. Laupītāju dziesma
07. Saimnieks un saimniece 2
08. Tā tas nevar palikt 1
09. Šarlatāna gabals
10. Tā tas nevar palikt 2
11. Pļava
12. Saimnieks un saimniece 3
13. Princeses dziesma
14. Kaulēšanās dziesma
15. Ķeršana 1
16. Pils mūzika
17. Šūpuļdziesma
18. Keršana 2
19. Nāc, nāc puika
20. Šajā raibā pasaulē 2
21. Princeses dziesma (pavadījums)
22. Šūpuļdziesma (pavadījums)
23. Šajā raibā pasaulē 2 (pavadījums)

At begining of May 2011 composer Valts Pūce has released his latest CD including pieces from the musical for-all-ages entitled "Velniņi" ("Little devils").
You will hear popular Latvian stage artists: singers - Aisha, LieneCandy, Annija Putniņa, musician Niks Matvejevs, actress Leonarda Ķestere-Kļaviņa, soloists of the opera - Jānis Apeinis, Andris Lapiņš, Imants Erdmanis along with the boys' choir of Jazeps Medins 1st Music School of Riga under the management of Romāns Vanags. Music played by Ilze Grunte (guitar), Arnolds Kārlis (guitar), Valts Pūce (keys), Ainārs Majors (bass) and Ivars Kalniņš (drums/percussion).
CD recorded in the studio "We Love Sound". Label - music publishing house "Plate" under the management of Arnolds Kārkls. Recording engineers and mixers Eino Kolists and Ainars Majors, producer - Valts Pūce, cover art by Aija Baumane.