1997 - Dextera Domini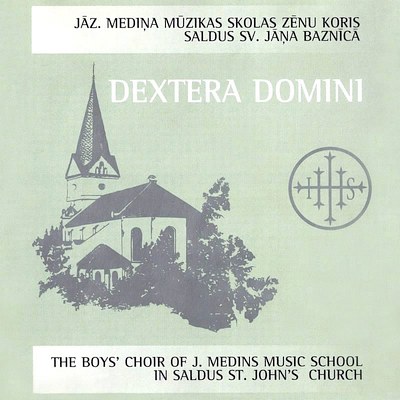 Artist: Jāzepa Mediņa mūzikas skolas zēnu koris Saldus Sv.Jāņa baznīcā
Format: CD
© 1997 JMMS zēnu koris
1. J.Rheinberger (1839-1901) Dextera Domini op.140#2
2. A.Bruckner (1824-1896) Locus iste
3. J.Brahms (1833-1897) Ave Maria op.12
4. J.Brahms (1833-1897) Warum ist das Licht gegeben dem Mühseligen
5. F.Mendelssohn-Bartholdy (1809-1847) Richte mich, Gott
6. F.Mendelssohn-Bartholdy (1809-1847) Jauchzet dem Herrn, alle Welt
7. H.Distler (1908-1942) Lobe den Herren
8. J.Busto (1949) Ave Maris Stella
9. Z.Kodaly (1882-1967) Adventi Enek
10. N.La Cour (1944) Hodie Christus natus est
11. J.Rutter (1945) A Gaelic Blessing
12. U.Sisask (1960) Kiitkem sudamest Mariat
13. D.Willcocks (1919) 150 Psalm
14. Negro spiritual arr. W.L.Dawson Ain'-a that good News!
15. Negro spiritual arr. M.Richardson Steal away
play
16. Jāz.Vītols (1863-1948) Mežezers
17. M.Zariņš (1910-1993) Ko mēs, brāļi, darīsim?
18. H.Pavasars (1903) Viņpus Rīgas suņu muiža
19. R.Skulte (1966) Še dziedāju, gavilēju
20. S.Mence (1953) Mārtiņa dziesma
21. Jāz.Mediņš (1877-1947) Vasaras vakars
In the late 1997 the boys' choir of J. Medins music school recorded CD named "Dextera Domini" in Saldus St.John's church. Saldus St.John's church is one of oldest churches of Kurzeme. First written evidence about Saldus parish can be found in 1461. Stone building of the church has finished in 1737. There is also a organ in the recording. The organ is more than 125 years old (now restored) and reveals the best features of German late romantic instruments in special Baltic way: intensively sounding stops of principal group, colorful and expressively tuned string stops, tender and bold sounding flute stops. Organist in the record is Daniels Pavļuts. This CD includes European componist music, Negro spirituals and also Latvian music.